elBulli.info
All about the most famous restaurant in the world
elBulli Gallery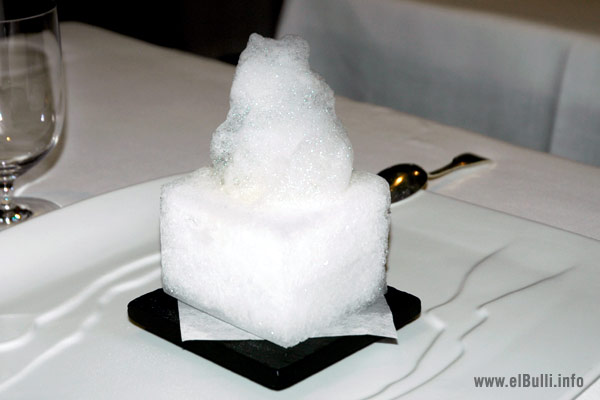 Margarita 2005
An evening in El Bulli always starts off with a cocktail. Today it's a Margarita served in a frozen snow cube where one is instructed to scoop up the Margarita tasting slush ice together with the salted foam on top.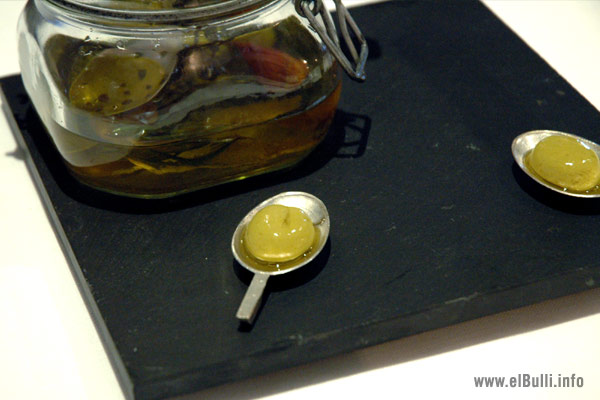 Olivas Sféricas
Spherical Olives -- A Margarita should be served with an olive. But this is not your average olive. Once you put this one in your mouth the thin outer layer bursts and an intense olive liquid fills your mouth. Here, Adrià has really achieved to make an olive better then the mother nature.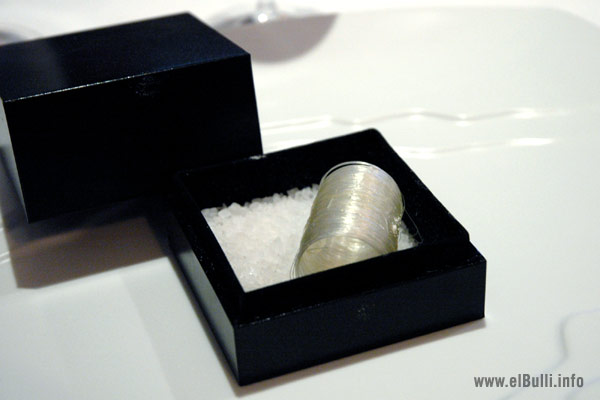 Muelle de aceite de oliva virgen
Olive oil spring -- The olive oil spring was presented to us in a jewelry box, as if Adrià was metaphorically referring to virgin olive oil and salt as Spain's treasures. We were instructed to put the spring on our fingers and eat it in one go, feeling it disappearing in our mouths.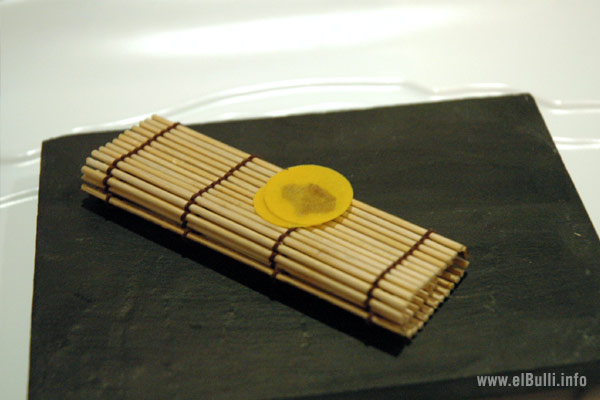 Disco de mango
Mango discs -- As we received a selection of appetizers my eyes found it hard to focus on what was edible or not. Finally they spotted the two almost transparent yellow discs joined by a black paste. The waiter specified mango discs with olive paste.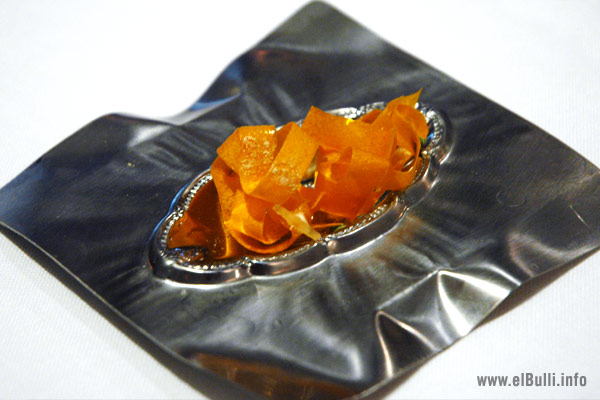 Lazos de zanahoria, hierba luisa, jengibre y regaliz
Intertwined carrot chips with lemon verbena, ginger and liquorice.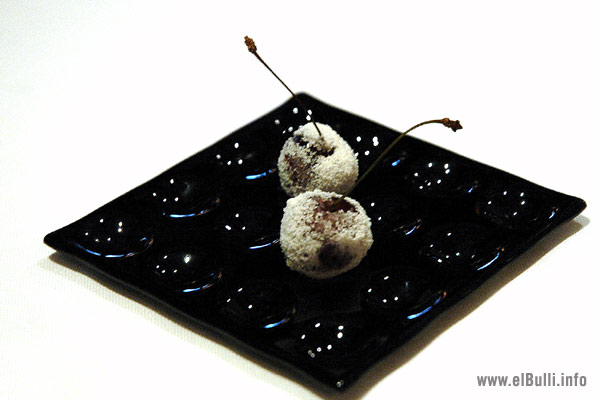 Cereza-yogur
Cherries in powdered yoghurt.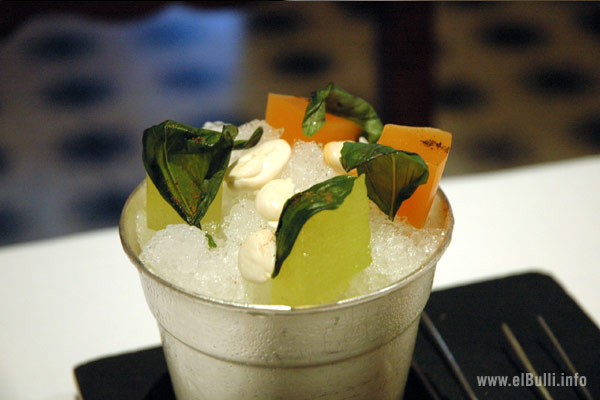 Melón cru con hierbas y almendra tierna
Melon with herbs and tender almonds -- So far the only cutlery we have been given were forceps with which we were to pick up this refreshing snack, resting on crushed ice.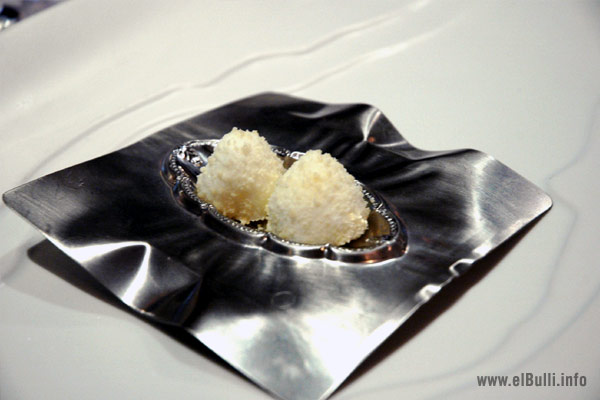 Marshmallow de parmegiano
Parmesan marshmallows.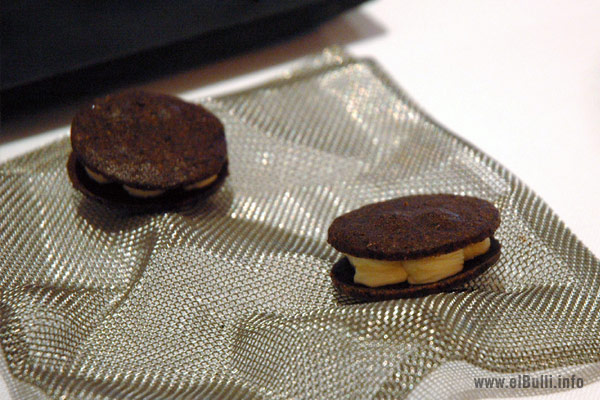 "Orios"
One of Adrià's jokes was savory Orio cookies - salty olive dough joined by the rich and creamy filling.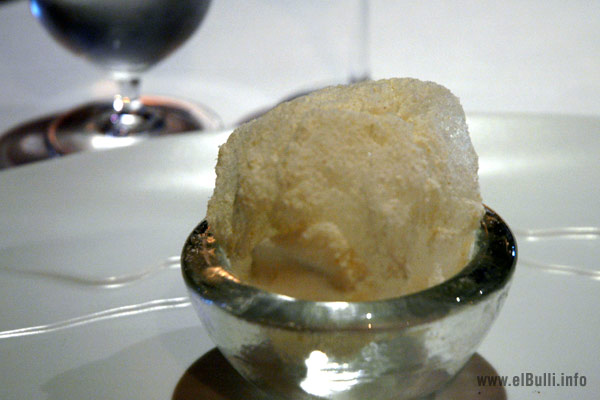 Nube de palomitas
Popcorn cloud -- This ball was about 10 cm in diameter and the waiter instructed us to eat in one go. "How?" was my silent question. Lifting it with my fingers and putting it in my mouth I felt it shrinking to nothing leaving only the taste of popcorn. Ummm!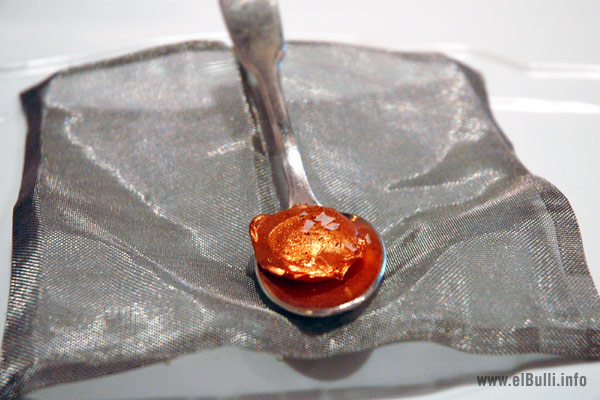 Huevo de oro
Golden Egg -- As we placed the spoons into our mouths the crunchy outer shell cracked and the warm egg yolk mixed with the sweet caramel of the shell and the salt crystals.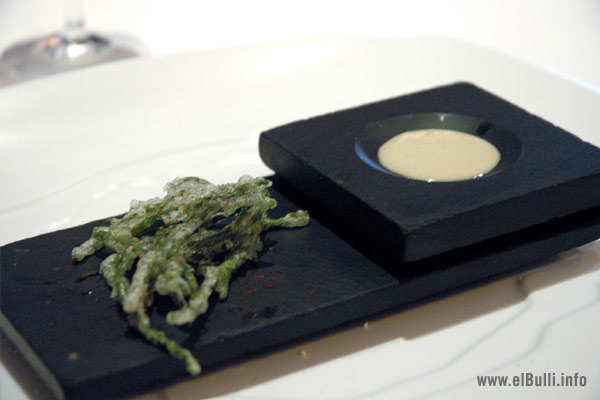 Témpura de salicornia al azafrán con emulsión de ostra
Tempura of salicornia, a seaweed, and saffron with oyster cream.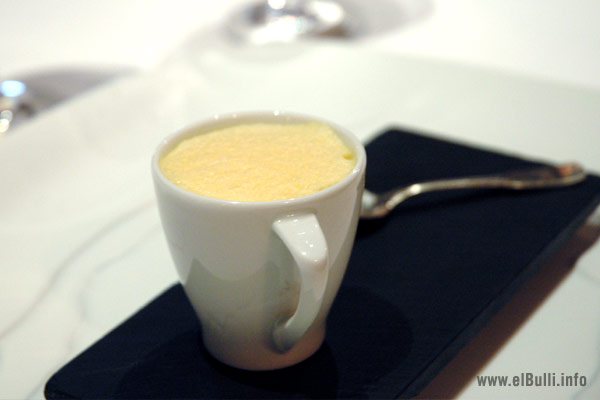 Tortilla de gelatina de trufa
Gelatine tortilla with truffles -- One of the dishes that makes one recognize the importance of texture in a dish, as the components themselves are tasty and luxurious (truffles) this dish fails to make a positive impression due to the lack of substance to chew on. Thank God it came in a small portion.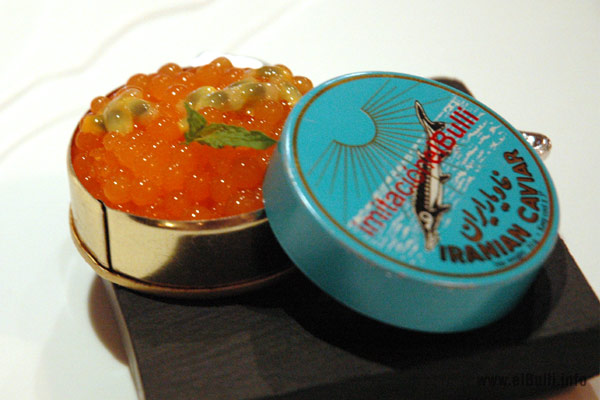 Caviar sférico de melon
Melon caviar -- Another joke. The savory caviar is turned into a sweet and juice imitation with a melon and passion fruit flavor. To fool the brain even more it is packaged into an El Bulli copy of Iranian caviar tin.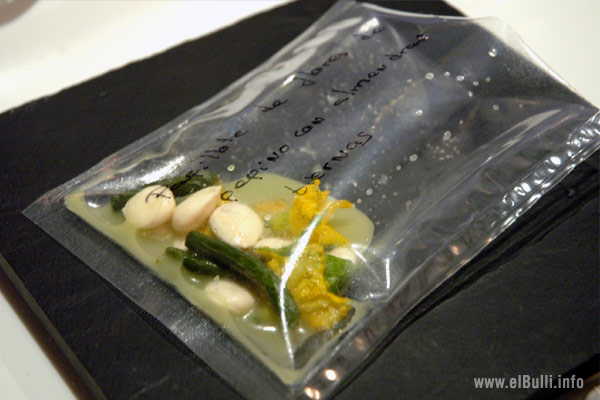 Papillote de pepinillo en flor con almendra tierna
A papillote of gherkins and flowers with tender almonds -- This sealed plastic bag was cut open by the waiters. Here forceps were, again, excellent instruments to reach for our tiniest gherkins, yummy flowers and juicy almonds.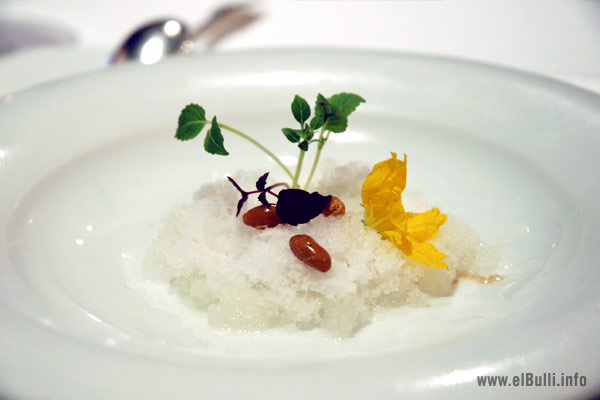 Deshielo 2005
The thaw 2005 -- A peanut ice-cream covered by snow was refreshing before going into to the main courses.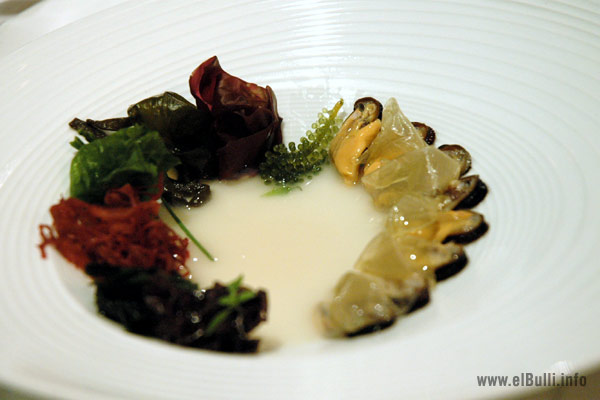 Mejillones de roca con "gargillou" de algas
Cliff mussels with "gargillou" of seaweed -- We were instructed to eat them one at a time, taking each time a different component. So if one were to eat the mussel first it should be followed by the seaweed. The dominating flavor I felt was that of the sea - iodine.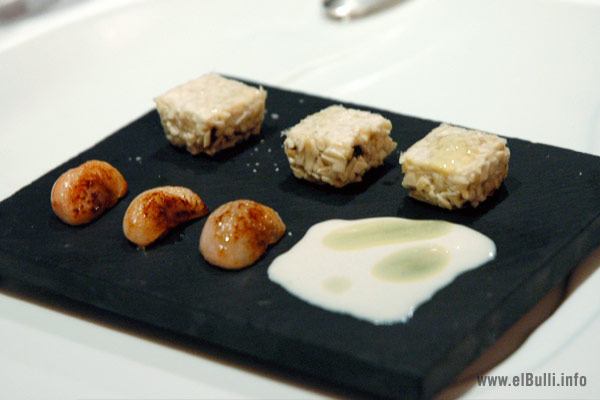 Crunchy de almendra tierna y trufa
Crunchy almonds tender truffles.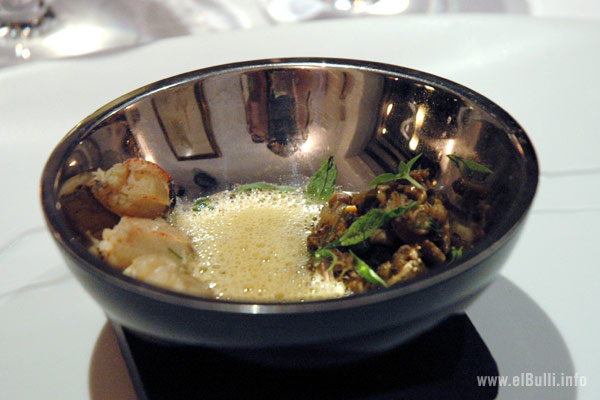 Caracolines con nécoras
Snails and crabs.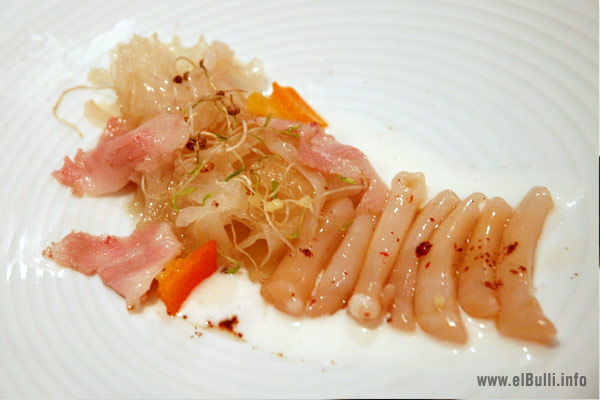 Navajas con kikurague
Mussels with "kikurague" -- Navajas was a type of mussel served with a vegetable I have never seen in my life – kikurague, reminding of an asparagus by shape but extremely tender in texture served with a creamy souse. Excellent!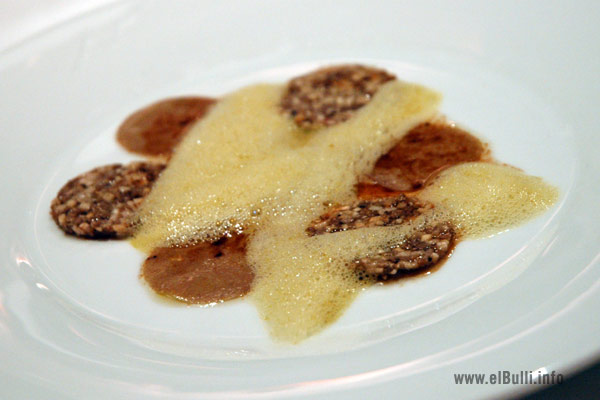 Falso tartufo de cerdo ibérico y aceituna verde
Fake "tartufo" of Iberian ham with olive oil.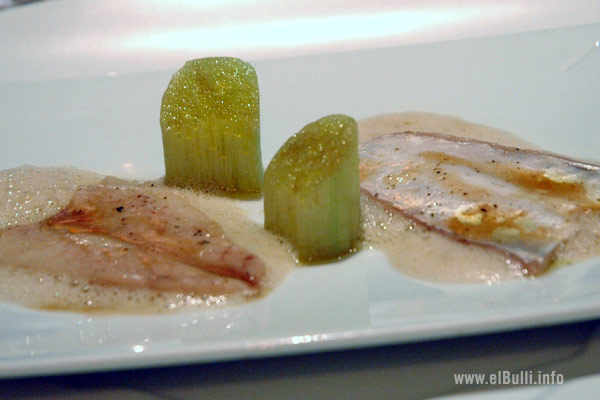 Ventresca de caballa en escabeche de pollo
Mackerel in a marinated chicken.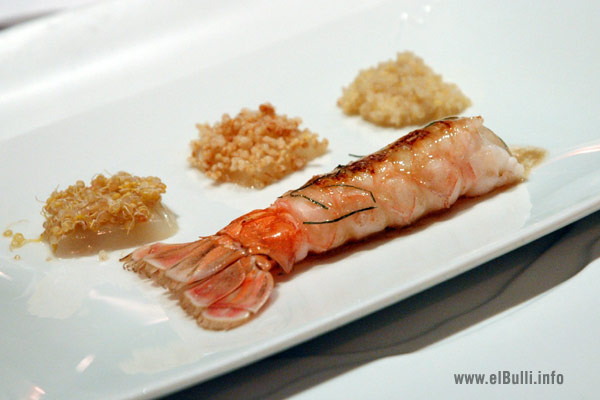 Cigala con quinoa
Langoustine with quinoa -- An excellent more traditional dish.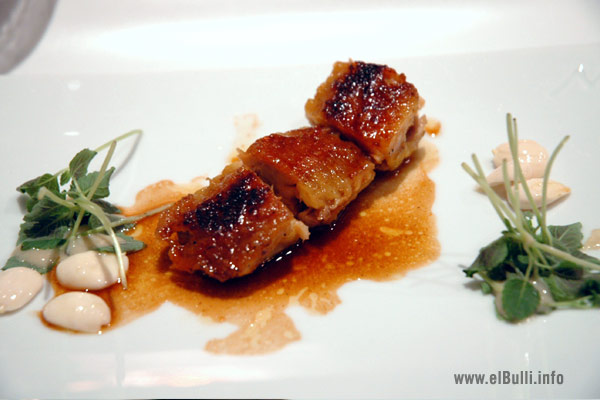 Alitas de pollo tandori con germinado de sisho verde i emulsión de ostra
Tandoori chicken wings with juicy "sisho" spears in oyster sauce.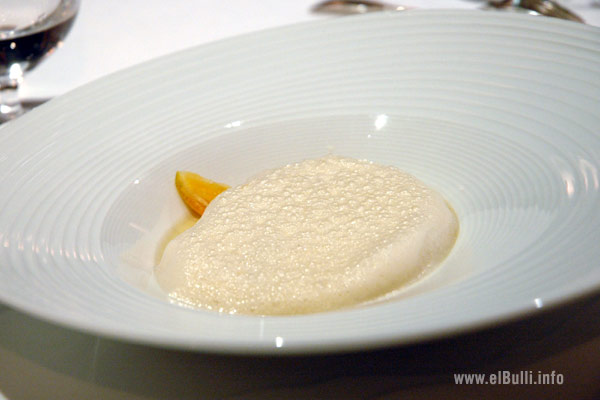 Mástic de miel y mástic
Honey mastic -- Almost bodyless honey-flavored foam.

Sushi - for dessert.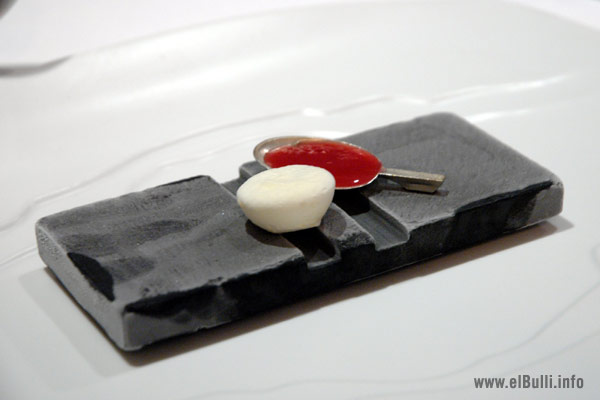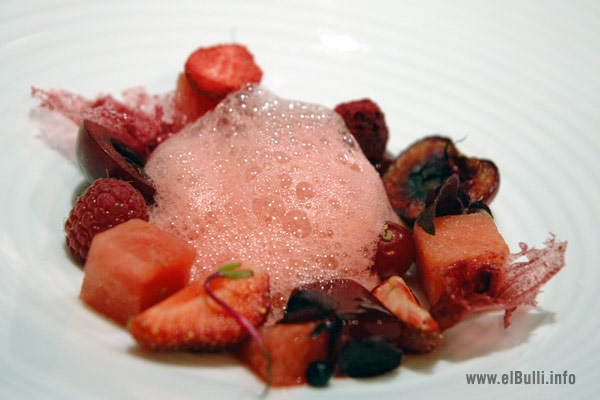 Variación roja
Red variations -- Berries that underwent a process of lyophilisation, freeze-drying, with an intense taste balanced out by the light foam.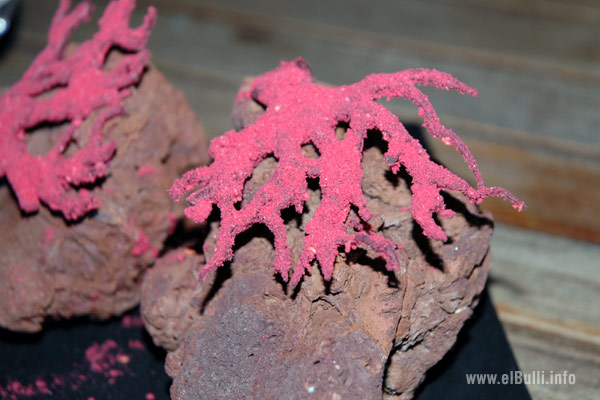 Morphings
This beautiful pink coral is dark chocolate coated by sour raspberry powder. After savoring it I dug into the brown piece what seemed like it could be some sort of strange bread, possibly sweet. I expected the taste to be in any shape and size - it looked beautiful so I tried it. It was a rock. So Adrià has fooled us once again. Thank you, for this great and memorably evening!