elBulli.info
All about the most famous restaurant in the world
elBulli: How to get there?
First -- get a reservation. That requires sending an e-mail to bulli@elbulli.com. One of the people responsible for reservations will let you know to get back to them in November, December or January, whenever. They won't just put you on the waiting list to avoid the absurdity of waiting time. Everyone is allocated a place on the "first come - first serve basis" - from the time when reservations are accepted.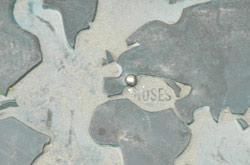 The restaurant is positioned on Cala Monjoi a small village-camping ground by the sea, 7 km away from Roses – a tourist resort on Costa Brava, on the north of Spain. If you managed to get a reservation in El Bulli take a cab there from Roses. A) It's a dangerous route, B) you'll probably want to drink there so it will even be less safe on the way back. Another way you can get to El Bulli from Roses is by boat.
The nearest airport to Roses is in Girona which is about 70 km South-West. The journey would take about an hour and 15 minutes. There is also an airport in Barcelona, 150 km away. This journey takes about 2 hours by car.
There is only one 5 star hotel in the area – Hotel Vistabella. Their beach is not as nice as Almadraba's, situated a bit further down the coast. Almadraba Park Hotel is a 4 star hotel that makes an emphasis on peace and quite and they are furthest away from the town center with access to an excellent public beach.
There is only one other 4 star hotel in Roses - Hotel Terrazza, situated on the long and broad sandy beach, right in the center of town.